OLV's Mentors-in-Residence (MIR) program didn't reinvent the start-up/entrepreneurial wheel — rather, just enabled it to turn faster and more efficiently, heading toward the path to greater success.

And since its creation just a short year ago, the MIRs have helped Duke New Ventures advance many new start-ups into the marketplace.  New Ventures is the starting point for turning a university-developed idea into a start-up company.  The center helps inventors think through opportunities, craft business plans and investment pitches, find funding and establish industry contacts.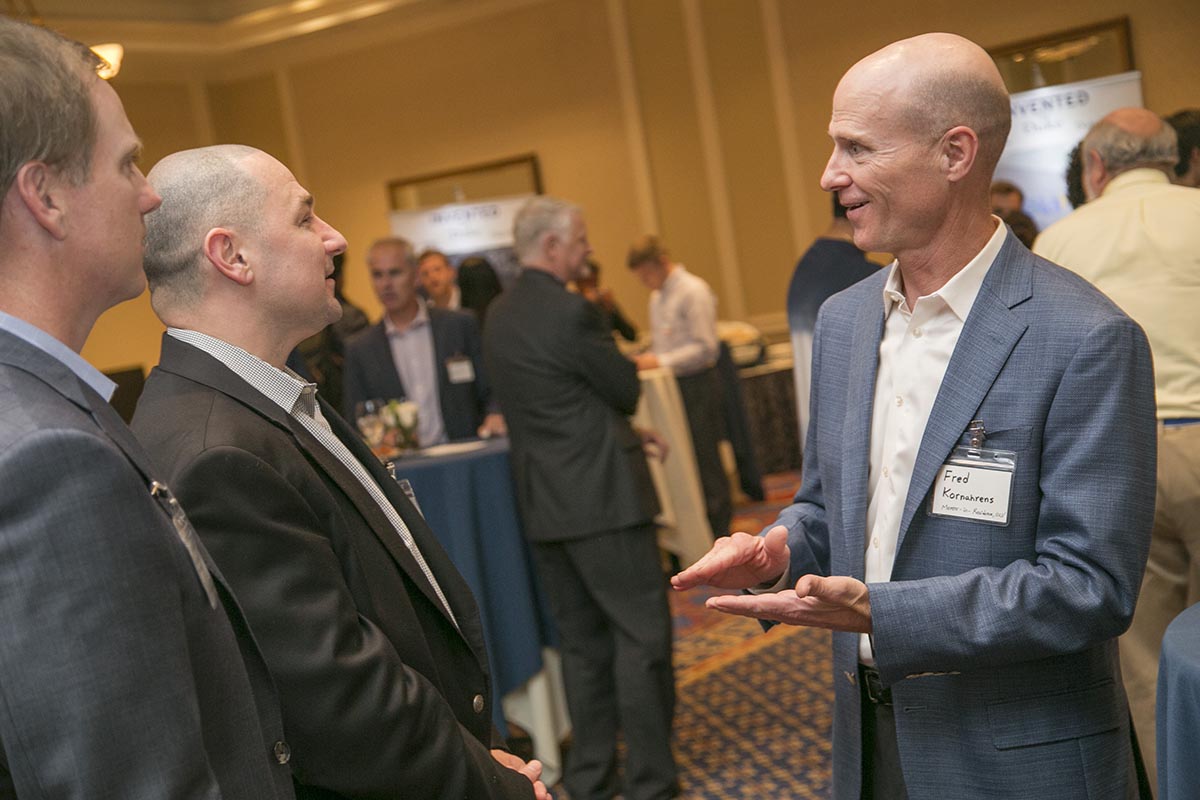 Under Rob Hallford, Duke New Ventures developed several new strategies to vet faculty and staff inventions and support their development into spinoff companies.  One of those new strategies was hiring five MIRs—seasoned entrepreneurs who have successfully raised capital for, built, sold, or invested in start-up companies.
"What we've recruited for in our MIRs is a diverse set of experiences and expertise to help our faculty across multiple technology and industry sectors.  But more than that, we've been able to find entrepreneurs with an energy for engaging with and building out Duke's entrepreneurial community," Hallford said.
The main focus of Duke New Ventures is on finding commercial channels and good management for these Duke innovations. However, much of the work is about building relationships.
MIRs have spent their careers building deep industry relationships. As such, they are matched with innovators within the same industry to help them move their ideas to the market.  An MIR not only helps the faculty or staff member develop their company plan such that introductions can be made to potential investors, management and partners, but they also help cultivate those connections.
"As a clinician and scientist, I'm adept at thinking about how products we develop may fit in the lives of patients and their caregivers.  But an important gap in my knowledge and comfort is understanding product/market fit from a business development perspective," said Arif Kamal, Associate Professor of Medicine and co-founder of the mobile health platform Prepped Health.
Kamal was paired with MIR Kevin Bowles, who has over 25 years of entrepreneurial experience. "Kevin has been an invaluable resource in pressure testing our ideas before we head to market.  He is supportive and yet pushes back when needed, so that ultimately, we come to market with the best plan.  He is equal parts cheerleader and coach."
Tech-transfer opportunities are increasingly important to faculty and staff. By tapping into these experienced entrepreneurs' business and networking expertise, New Ventures aims to not only promote technology translation but also enable Duke inventors to have a better understanding of the business value proposition.
MIR Fred Kornahrens, who has supported over a dozen pioneering researchers this past year, saw this within the projects he mentored, "I witnessed significant enlightenment on the part of the innovators as to the true meaning of a value proposition for their technology.  Moving from a lack of understanding and the need for it to fully developing and embracing it."
This last year saw the New Ventures team make 89 introductions and nurture numerous startup ventures based on Duke faculty/staff technologies, with 1 company acquired for $33 million.  15 of 16 start-ups formed in FY18 have stayed in the Durham/Triangle area, providing jobs and contributing to the thriving local economy.
In conjunction with OLV and through their own efforts, Duke start-ups have raised over $525 million this year.